From a school that was founded in 1991 as the first private higher education college in Central Europe, International Business School has grown into a truly modern and dynamic business school. We are proud to work in cooperation with a prestigious British university, The University of Buckingham.
We have two campuses, one in Budapest-Hungary, and another in Vienna-Austria. On our Budapest campus, we offer BSc, MSc, and Ph.D. programmes, while on our Vienna campus you can study International Management (MSc).
Why should you study at our Budapest campus in the Hungarian Silicon Valley?
Get a joint degree at the end of your studies! British and Hungarian degrees at an affordable price.
Practice-oriented education in small classes where you can learn from the best!
Be part of a truly international community, we have students from more than 100 countries.
You will receive personal assistance from our staff for example our Career Office or our Student Wellbeing Team.
Experience the amazing student life in Budapest!
BSc: in the 5th semester you can choose between an Erasmus+ mobility programme (have the opportunity to study in other European higher education institutions) or placement, where you can work at one of our illustrious partners such as Morgan Stanley, Agoda, Emirates just a few to mention.
We offer Master's programmes with a work-friendly class schedule.
Student Life
Student life at IBS is wonderful, make many memories!
We assign mentors for the new students, so they have a buddy when they arrive at IBS. During the first weeks, welcome events are organised where students can mingle and get to know each other.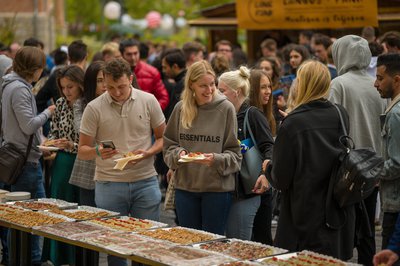 Welcome event
Throughout the year, we have several events for instance our Big Day (job fair) with various multinational companies present. Our Erasmus Day, where you can taste a huge variety of dishes from all over the world. Moreover, our student clubs also create interesting events.
Big Day (on-campus job fair)
Erasmus Day
You can join our student clubs or even create one!
Besides we have a dedicated Wellbeing Team who are always there for our students. We at IBS put a high priority on supporting students when needed be that an administrative or academic matter.
Click here to read testimonials from our students and professors.
Address
1031 Budapest, Záhony utca 7.